Communities
We want the communities and societies in which we operate to be better off for AngloGold Ashanti having been there.
Contributing to resilient, self-sustaining communities
We understand the influential role that mining companies can play in the development of local communities and their supporting economies and strive as far as possible to nurture harmonious relationships with host communities.
This is especially important in the context of the complex and diverse environments where we operate. The socio-economic issues most prevalent in our host communities include unemployment, low economic growth, inadequate infrastructure and lack of access to services including healthcare and education. Communities also have concerns about food and water security.
In framing our approach to social contribution, we are guided by a set of management standards that outline the philosophy, scope and application of our community development initiatives. Focus areas include:
Enterprise and supplier development
Localisation of employment and procurement opportunities
Infrastructure development
Public health initiatives
Education and skills development
For further information, refer to <SR>2021: Contributing to resilient, self-sustaining communities
2021 statistics
Community investment
$18m*
(2020: $20.59m)
Local procurement spend
$2.4bn
(2020: $2.58bn)
Community incidents
12
(2020: 21)
Security and human rights
2 incidents or allegations
(2020: 0 allegations)
* Excludes joint ventures and includes capitalised expenditure

Human rights
Respecting human rights means we endeavour, in every way, to conduct our business without causing harm to people. Aspects of human rights cut across our entire business and are applicable to every stage of the mine lifecycle.
AngloGold Ashanti played an active role in the development of the United Nations Guiding Principles of Business and Human Rights, and we understand our responsibility to not only uphold the rights of individuals where our company has an impact, but also to encourage state actors to protect human rights and seek remedy for potentially affected parties.
Security and human rights
Our primary security concern is the safety of people, which includes employees as well as host communities. We also take precautions to protect our assets and secure the long-term operational stability of our mines. Our most significant security challenges are where there is endemic poverty, high levels of unemployment and few opportunities for alternative livelihoods.
The AngloGold Ashanti Global Security Framework was designed to meet security needs while maintaining respect for human rights and fundamental freedoms. We are also a signatory to the Voluntary Principles on Security and Human Rights, which is recognised as international best-practice for the professional and transparent utilisation and conduct of security forces for the extraction industry.
For further information, refer to <SR>2021: Respecting and upholding human rights and Addressing physical security and cybersecurity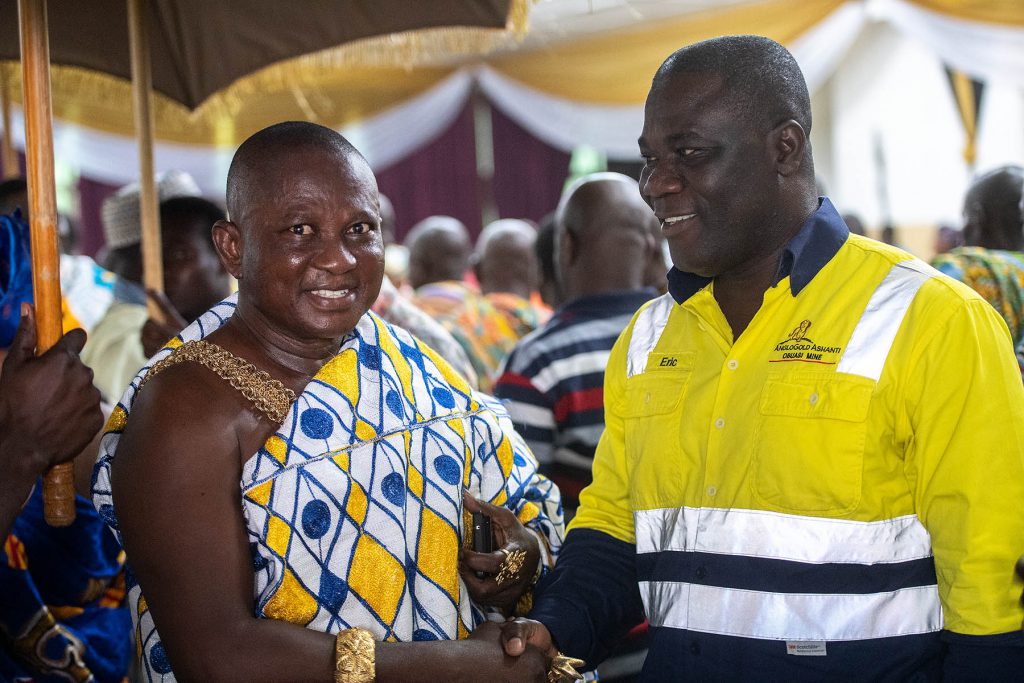 The rights of indigenous peoples
We engage and align with communities, including indigenous peoples.
Embedded in our values is understanding and respect for the values, traditions, and cultures of the local and Indigenous Communities in which we operate. Although only our operations in Australia are close to indigenous communities, AngloGold Ashanti seeks to ensure that our interactions with Indigenous Peoples are in keeping with the basic human rights and their social, economic and environmental interests. We are guided by our human rights framework and the Indigenous Peoples Management Standard which aligns with international standards and conventions including the ICMM Position Statement on Indigenous Peoples and the International Finance Corporation's Performance Standard 7 on Indigenous Peoples.
The principles of free, prior, informed consent are therefore largely applied in all our interactions with host communities and indigenous peoples, focusing on good faith negotiation. In addition, our Cultural Heritage and Sacred Sites Management Standard supports our focus on the rights of Indigenous Peoples. We contribute through various programmes aimed at providing opportunities for participation in employment, education, gender equality, inclusive procurement, among others.