Corporate governance
Governance is at the heart of responsible mining. Sound governance principles and practices underpin the creation of value and the sustainability of the business.
The board has oversight of sustainability risks and opportunities and additional focus and oversight is provided by the Social, Ethics and Sustainability Committee. Primary responsibility for managing sustainability matters rests with AngloGold Ashanti's leadership, in particular the Executive Vice President: Corporate Affairs who is responsible for executing the sustainability strategy.
A culture of transparent reporting – internal and external – ensures compliance to AngloGold Ashanti's policies and procedures and that challenges can be addressed as they arise.
In compliance with best practice, and to meet its obligations in terms of the US Sarbanes-Oxley Act of 2002, NYSE and JSE Rules and the King Report IV on Corporate Governance, AngloGold Ashanti's Board of directors has adopted policies, procedures and guiding principles as part of the company's corporate governance guidelines. Download our King IV Narratives
Our Code
Our Code is the defining document for AngloGold Ashanti's values and ethics, and is used in addition to the applicable laws, regulations, standards and contractual obligations to guide our business decisions in the countries in which we operate. Our Code provides a framework and sets requirements for the implementation of key corporate policies and guidelines. It addresses: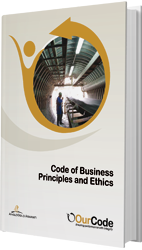 However, effective leadership is not limited to compliance with the applicable rules and regulations. AngloGold Ashanti has also adopted non-binding rules, codes and standards that support AngloGold Ashanti being an effective and ethical corporate citizen.
Without limitation, AngloGold Ashanti is a member of and a signatory to the:
We are committed to complying with the following standards: