ESG transparency hub
Sustainability is embedded in our business activities both as a driver for long-term value creation and as a pillar of our social licence to operate.
Energy consumption
22.04PJ
(Efficiency: 0.5GJ/tonne treated)
---
GHG (CO2e) emissions
1,380kt
(Efficiency: 31kg/tonnes treated)
---
Water reused
67%
(Efficiency: 0.75kL/tonne treated)
Land under management
639,709ha
3,643ha rehabilitated with total rehabilitation liabilities of $688m
Reportable environmental incidents
5
People employed on average
30,561 (includes contractors)
---
Salaries, wages and other benefits
$515m
---
Training and development
$7.11
---
Local procurement
$2.4bn 93% of total procurement spend of $2.61bn
---
Community investment
18m*
* Excludes joint ventures and includes capitalised expenditure
Total current taxes paid
$248m*
* includes normal taxation and withholding taxation on dividends paid per jurisdiction in which the group operates
---
Royalties paid
$149m
---
Taxes paid on behalf of employees
$167m
Compliance
ISO 14001
92% of sites certified
Cyanide Code
91% of sites certified
Security and human rights
No incidents
The Voluntary Principles on Security and Human Rights (VPSHR) applied.
100% of security personnel attended VPSHR training
For further details refer to the 2021 <SR>
---
We are focused on climate change
EMISSION REDUCTIONS ACHIEVED

Innovative methods used to reduce emissions intensity

TCFD DISCLOSURE IN 2021

Disclosure in line with TCFD Recommendations set for 2021

RENEWABLES FOR NEW PROJECTS

Hydropower used in Kibali, Brazil; to feature strongly in Colombia

NEW GHG TARGETS –COMMITTED TO NET ZERO

Setting new targets; committed to charting a pathway to net zero
For further details refer to the Climate Change Report 2020/21
Environmental compliance
Our Group Environmental Policy, Standards and Guidelines guide our environmental activities while allowing flexibility to adapt to the varying operational, geographical, climate and regulatory contexts. Each operation's unique set of controls is maintained through its Environmental Management System (EMS), which is ISO 14001: 2015 certified.
We are in material compliance with all relevant environmental legislation.
92% of sites certified to ISO 14001:2015
91% of sites certified to the International Cyanide Management Code
All our gold processing plants are certified to the Cyanide code with the exception of Obuasi mine. Obuasi will initiate processes for recertification once construction and ramp up to full production are achieved.
Safety & health compliance
All our operating mines are OHSAS 18001:2007 certified, with Geita, Iduapriem, Siguiri, Cerro Vanguardia, Sunrise Dam and Tropicana Mines already migrated to ISO 45001:2018, with the remaining operations to follow.
The certification process has however been impacted by COVID-19 travel restrictions.
---
Modern Slavery Statement 2021
AngloGold Ashanti has released its second Modern Slavery Statement. The statement has been produced in line with the Australian government's Modern Slavery Act 2018 and the UK Modern Slavery Act 2015. AngloGold Ashanti reports against the latter on a voluntary basis.
Our Modern Slavery Statement reflects our commitment to respect human rights – the fundamental rights and freedoms to which everyone is entitled and we have a role to play in preventing and eliminating any practices that may be defined as modern slavery across our business.
Read our Modern Slavery Statement 2021.
---
Sustainability indices
We voluntarily engage with several entities that rank our sustainability/ESG performance, according to their own methodologies. These rankings are based on our ESG-related disclosures and also ESG risks and performance and provide useful external feedback on our performance and benchmarks against our peers. We are proud where we do well but are more focused and work hard on those areas highlighted for improvement. We participate and are ranked by various Sustainability Indices and ratings agencies for our ESG performance, which include the MSCI; Vigeo; and Sustainalytics, amongst others. Some of the ESG rankings are reflected below.
---
S&P Global Corporate Sustainability Assessment (CSA) (formerly SAM CSA)
S&P Global CSA enables directing reporting of key sustainability metrics and benchmarking of performance on a wide range of industry-specific ESG criteria. CSA results are not only an important resource to the financial community but also to employees, customers and critical NGOs.
In the 2020 assessment, AngloGold Ashanti was ranked number 10 out 134 metals and mining companies in the industry and achieved an overall ESG rating score of 69 versus an industry average of 26.
Responsible Mining Index
The Responsible Mining Index (RMI) assesses the extent to which large-scale mining companies address a range of economic and ESG issues across their mining activities. AngloGold Ashanti ranked fourth out of 38 global mining companies, and first for emerging market companies, for our mine-site results in the latest RMI rankings. We scored in the top five for performance in economic development, lifecycle management, community wellbeing and environmental responsibility. Other areas which are assessed by the index are business conduct and working conditions.
We were commended for, among others, our transparency in relation to the negative impacts our operations can have, our formalised approach to supporting local procurement and local business development, for our comprehensive approach to mitigating the impacts of collective retrenchment and relatively detailed disclosure of environmental incidents.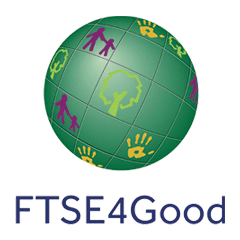 FTSE4Good
The FTSE/JSE Responsible Investment Index Series (FTSE4Good) is designed to measure the performance of companies demonstrating strong ESG practices. AngloGold Ashanti achieved an overall rating of 4.3 out of 5. This compares favourably with average scores of 2.6 for the gold mining sector, 2.1 for the basic materials industry and 3.5 for South Africa.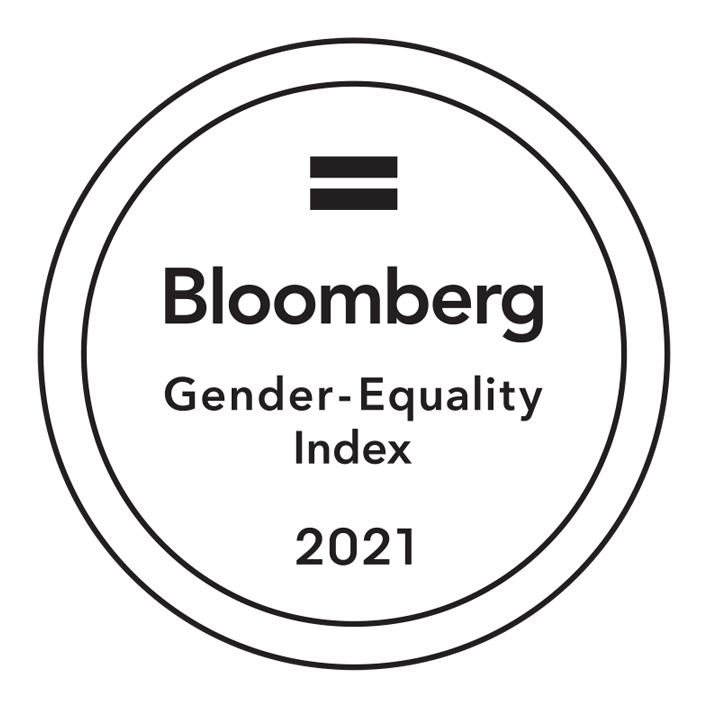 Bloomberg Gender-Equality Index
This index tracks the financial performance of public companies committed to disclosing their efforts to support gender equality through policy development, representation and transparency. AngloGold Ashanti has been included in the 2021 Bloomberg Gender-Equity Index (GEI) in recognition of the work being done to improve diversity and inclusion across the group. Our overall score of 67% compares with an average score across all sectors of 67% for the mining sector.
Our highest scores were for disclosure, equal pay and gender parity, our sexual harassment policies and our pro-women branding. Although we improved in some areas, opportunities exist to better our performance in others – such as female leadership and talent pipeline, and gender inclusivity. With the support of the board and executive committee to promote gender diversity and create an inclusive working environment, we are well placed to achieve this.