Siguiri, Guinea
Siguiri is a multiple open-pit gold mine in the relatively remote district of Siguiri, around 850km northeast of the country's capital, Conakry.
Ownership
85%
AngloGold Ashanti
Mineral Resource
Gold production
All-in sustaining costs
Capital expenditure
Workforce
Overview and locality
Siguiri is AngloGold Ashanti's only operation in the Republic of Guinea. The mine is 85% owned by AngloGold Ashanti and 15% by the government of Guinea.
Siguiri is currently a multi-pit fresh rock and oxide gold mining operation, mined by a contract miner. The mining method is selective conventional mining using excavators and trucks on 3m high flitches with gold-bearing ore mined from several pits (generally three pits at any one time).
A brief history
First gold mining can be traced back to the first great West African Empire, the Sarakolle Kingdom
Between 1931 and 1951, the French reported gold coming out of Siguiri, with figures varying between 1 and 3.8t annually
There was a phase of Russian exploration in the area between 1960 and 1963. The Russian work focused on the placer deposits along the major river channels in the area.
In 1980, Société Minière Internationale du Quebéc (SOMIQ) gained the exploration rights for Siguiri and Mandiana. SOMIQ focused its work on the Koron and Didi areas. The Chevaning Mining Company Limited was then created to undertake a detailed economic evaluation of the prospect, with more intensive work beginning in the late 1980s.
Société Aurifere de Guinea (SAG) took over from its predecessors and continued work on the placer deposits. Production on the Koron placer reached a peak in 1992 with 1.1t gold being produced, although due to a number of difficulties, the mine was shut down later that year.
In the mid-1990s, Golden Shamrock acquired and operated the project as an open pit and heap leach.
In October 1996, Golden Shamrock was acquired by Ashanti Goldfields Corporation which operated Siguiri as a heap leach until 2004. Ashanti Goldfields Corporation merged with AngloGold Limited in 2004 to become AngloGold Ashanti.
AngloGold Ashanti completed the design and construction of the 8.5Mtpa saprolite soft rock treatment plant and commissioned it in 2005. This was later increased to 12Mtpa.
A Siguiri combination plant feasibility study, based on the requirement to process fresh and transitional material in combination with existing oxide material, was completed in 2015. The combination plant conversion project began in 2017 to allow the mine to treat 6Mt of hard fresh rock ore and 6Mt of oxide ore. Construction was completed in March 2018 and further optimisation and debottlenecking of the plant continues.
ESG statistics 2021
All injury frequency rate
0.13 per million hours worked

Community investment
$1,480m

Reportable environmental incidents
0

Water use
7,784ML

Water use efficiency
0.68kL/t

Energy consumption
3.45PJ

Energy use intensity
0.30GJ/t

GHG emissions
234kt

GHG emission intensity
20kg/t CO2e

Rehabilitation liabilities
$52m

Related stories
The Market Garden Project in Siguiri empowers local women
In 2013, Siguiri mine conducted a socio-economic baseline study on Block 1 of its concession. Findings revealed that the host communities have large tracts of wetland conducive for agriculture. However, these agricultural lands were used only in a marginal way by a tiny proportion of the population due to the high prevalence of artisanal mining.
Read story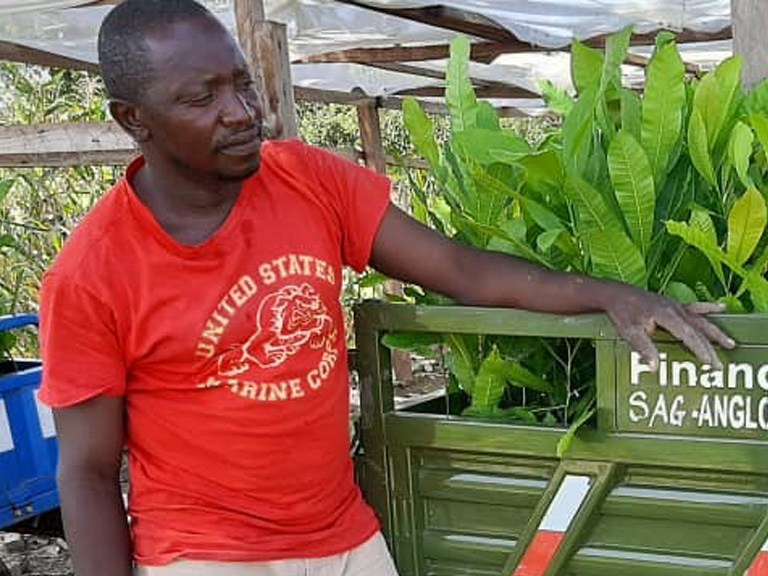 Siguiri cashew project: creating sustainable livelihoods
After extensive consultation with the community of Siguiri to address high levels of unemployment and looking at what was available as a source of income for the community, a decision was made to construct a semi-mechanised cashew processing plant.
Read story